CUSTOM FURNITURE DESIGNED SPECIFICALLY FOR YOU FROM YOUR HOUSTON SALAMANDER DEALER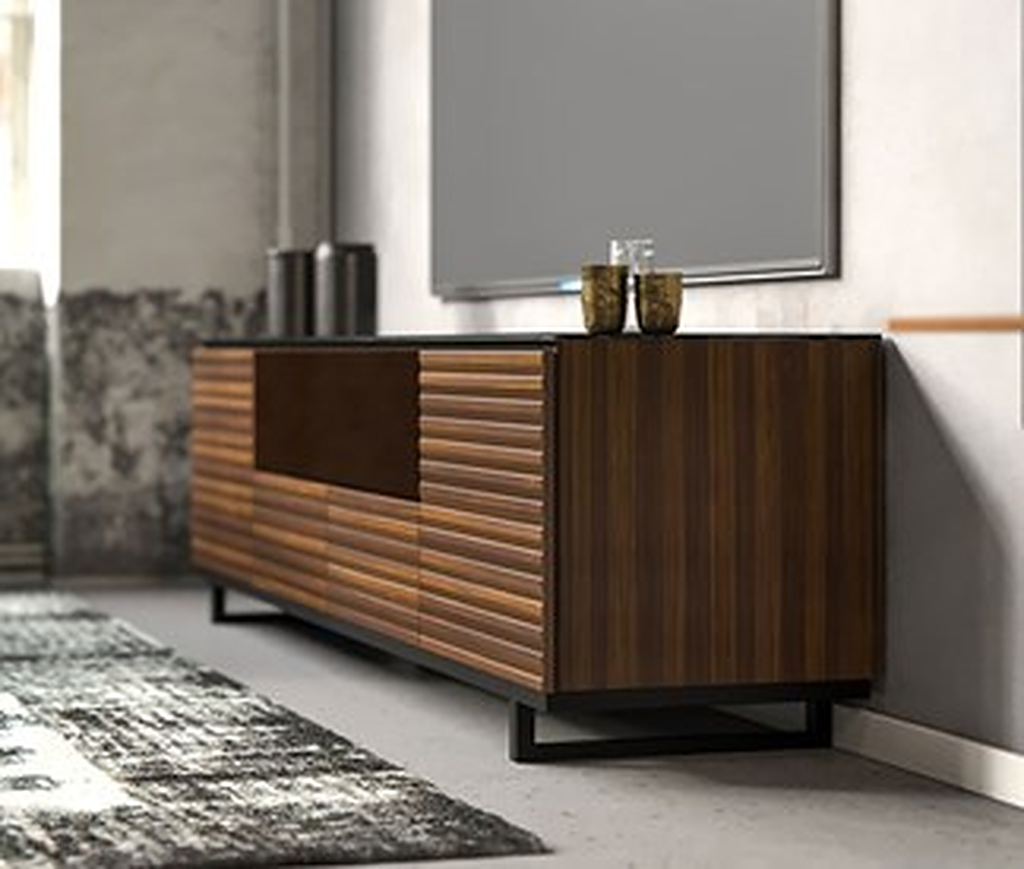 ENTERTAINMENT, WITHOUT THE WIRES
Flying looks a lot more impressive if you can't see the wires. When you walk into your living room, you shouldn't be able to see all the wires and electronics that make your technology work. You should be fully immersed in the impressive, exciting, and comfortable entertainment space, with no bulky wires or electronics on display. With custom furniture, you can maintain the illusion of full technological integration.
Imagine a state-of-the-art, fully customizable credenza that is specifically designed to seamlessly store and hide all the cords and electronics for your TV. Salamander A/V furniture not only hides the electronics but also protects and integrates them into your space. These sleek modular cabinets offer cable management, a cooling system to protect your electronics, and can even integrate an impressive sound system right into the cabinet. The vented cabinet's built-in cooling system keeps your electronics from overheating.
Now, you can shrink down the capabilities of an entire movie theater to fit inside a sleek A/V cabinet that integrates effortlessly into your home.
CUSTOM, NOT "ONE SIZE FITS ALL"
Every room in your home should feel like it was designed specifically for you and your family. Your style, your preferences, and your wants and needs should all be reflected in your home. Furniture sets the tone for the entire space, so you need to be able to customize it. With custom furniture, you don't have to compromise.
You can customize your A/V cabinet to perfectly fit into the design of your home. Change the size, shape, layout, finish, color, material, and much more so that the furniture will blend harmoniously into your home. With custom furniture, your specific requests can turn into reality because of the modular design of Salamander furniture. This furniture works with you so that you don't have to settle.
Your home theater should feel like home. Do you want your theater chairs in a sectional layout with reclining features in rich black leather? Or would a loveseat and single chairs with storage ottomans better fit your needs? From material to layout, with custom seating, you can easily have all of your requirements met.
STREAMLINED SOLUTIONS, FOR YOUR HOME AND OFFICE
Salamander vented cabinets and customized seating provide elegant solutions all over your home. It will feel like your home but even better. Unwind in an ergonomically designed theater chair with wireless reclining and built-in cup holders from the comfort of your home. Entertain your family or guests without the distractions of cables or bulky equipment. Streamlined, customized, and modern.
You can also update your office space with Salamander's clever furniture solutions. Use their professional audio racks and modular electronics stands to update your office's technological capabilities. Your presentations can now have impressive audio and visuals that will enhance your hard work. With sleek TV mounts and cable management cabinets, your office will blend beautifully with modern technology.
YOUR HOUSTON SALAMANDER DEALER HAS THE ANSWERS
Echo Workshop is a Salamander dealer that delivers solutions, like custom theater seating or A/V cabinets, to Houston. Your home is not one-size-fits-all, so we will work with you to find solutions that perfectly fit your needs. Please contact us to learn more about how we can design and install custom Salamander furniture in your home or office.
Stay Informed
When you subscribe to the blog, we will send you an e-mail when there are new updates on the site so you wouldn't miss them.